China's Leading Precision Machining Services Factory
Classification:BLOG
Googletech Precision Machining Services is a leading provider of high-quality machining solutions. Our team of experienced machinists and state-of-the-art equipment are dedicated to delivering results that meet the most exacting standards. We specialize in a variety of precision machining services, including CNC milling and turning, wire EDM, and surface grinding.

With a focus on efficiency and precision, our team uses cutting-edge technology to produce parts with exacting specifications. Our in-depth knowledge of materials, coupled with a commitment to quality, ensures that every project we undertake is completed to the highest standards.

At Googletech Precision Machining Services, we understand that success is dependent on meeting tight deadlines and staying within budget. Our goal is to provide our customers with a hassle-free experience, and we take pride in delivering results that meet or exceed expectations. Our responsive customer service, flexible scheduling, and competitive pricing set us apart from the competition.

Whether you need a single prototype or high-volume production runs, Googletech Precision Machining Services is the partner you can trust. With a commitment to excellence and a focus on customer satisfaction, we have established a reputation as a leading provider of precision machining services. Contact us today to learn more about how we can help you achieve your manufacturing goals.

We are dedicated to producing high-quality precision parts that meet and exceed your expectations.
Tolerance as tight as ±0.01 mm

100% part inspection

Machined parts as fast as 3 days
Our Precision Machining Services
High-quality precision machining requires increased expertise and detailed adherence to specific blueprints to create superior products. When looking for excellent results, working with a reliable precision machining company is crucial. We offer an extensive list of precision machining services, including precision turning, milling, and EDM, to meet your quality requirements.

At Googletech, our experienced technicians are dedicated to providing the best methods for a variety of machining projects with 3, 4, and 5 axis CNC machines. Meanwhile, we follow strict design specifications and manufacturing guidelines to ensure that all products meet the highest standards.
Why Choose Precision Machining Services?
High precision machining service is essential for producing intricate components with tight tolerance requirements. Our prototyping and low-volume parts manufacturing capabilities make us your one-stop supplier for precision machining service.
High Level of Precision
With high rigidity, precision machines use multi-coordinate linkage to create complex-shaped parts with tight tolerances. This ensures accuracy and the production of components with consistent quality.
Minimal Errors
This machining technology also minimizes human intervention due to the large level of automation. Therefore, precision machining reduces the probabilities of errors to the barest minimum.
Efficiency and Repeatability
Precision machining service uses state-of-the-art technology to automate various processes. The process also ensures high repeatability, making easier product quality control.
Cost-Effective and Fast Turnaround
The precision machining process is high-tech, reducing waste and labor requirements. This provides cost-effective manufacturing. Furthermore, design iterations only require changes to the program, which can save production preparation time.
Types Of Precision Machining Services We Offer
Googletech offers in-house engineering assistance, professional machining services, and a full range of secondary operations. Our precision milling, turning, and wire EDM services can handle all technical creation and quality delivery of your prototypes and end products.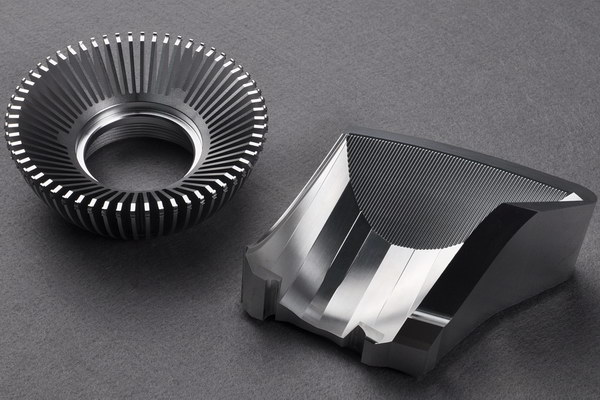 Precison CNC Milling
We guarantee quality precision milling for complex parts with high-quality multi-axis milling machines. As a high-level precision machining company in China, we ensure parts with tolerances down to ± 0.01mm. Our 5-axis milling machines have on-site inspection systems to monitor the components' dimensions during the process. The computer automatically adjusts the program for effective precision machining.
Precison CNC Turning
Precision Grinding
High-Performance EDM and Wire EDM
Quote Now to Start Your Precision Machining Project

GET AN INSTANT QUOTE
Benefits Of Googletech's Precision CNC Machining Services
With our advanced technology advantages and machining experience, we specialize in manufacturing various medium to high complexity precision machining parts. From prototype machining to mass production, we provide competitive precision machining services and have been the preferred precision machine shop for many industries.

Watch Video

Experience and Expertise
Having accumulated rich, deep experience from many previous projects, our engineers can handle complex and precise parts in multiple industries.

Advanced In-house Equipment
Your parts will be manufactured and inspected with our advanced in-house equipment, including 3-, 4-, and 5-axis CNC machines, CMM, and so on.

Tight Tolerances & Precise Details
We can produce high-precision intricate parts with dimensional tolerances of ±0.01mm, geometric tolerances of 0.01mm, the minimum machined radius R0.1mm, and machined surface roughness Ra0.2μm. We also often challenge optical parts with precise details.

Consistency and Repeatability
Our precision machining services for mass production ensure repeatable and consistent results. You can get high-precision parts from 1 to 10000 without compromising quality.

ISO 9001 Certified
From the first article quality checks for prototype machining through 100% part inspection. We ensure that our quality tests are as accurate as our precision machining process.

Faster Turnaround
You will get fast precision machining quotes within 24 hours, 99% on-time delivery, and parts shipping within 3 days or less.
Gallery Of Precision Machined Parts
Check out our display of prototypes and parts with precise details. At Googletech, you can confidently get the best machined parts!

WHAT DO YOU NEED TO KNOW ABOUT?
Precision Machining FAQs
We offer a comprehensive precision machining service, from creating prototypes for functional testing to developing end-use products from several applications. Get answers to your precision machining questions.
What are the tolerance limits of your precision machining services?
We offer detailed-oriented precision machined parts. Our capabilities allow us to produce high precision parts with dimensional tolerances of ±0.01mm, geometric tolerances of 0.01mm, minimum machined radius R0.1mm, and machined surface roughness Ra0.2μm.
Can you provide surface finishing for precision machined parts?
We provide a wide range of surface finishes for high-precision components. Some of these finishes include bead blasting, brushing, electroplating & electroplating, passivation, anodizing, chrome plating, polishing, and many more. These finishes protect the components from harsh conditions, improve the part's function, or enhance its aesthetic appearance.
What information do you need for a precision machining quote?
To make the quotation process easy, you will need to provide the following:
A 3D CAD file and 2D CAD drawing (with reference dimensions) of the intended component

Desired material specification

Quantity of the order, either annual volume or one-time production

Required tolerance limits

Surface finishing
What is your MOQ for precision machining services?
Googletech does not have minimum order quantity (MOQ) requirements. Our precision machining services can support you with high-precision parts from 1 to 10000 without compromising quality. From one-off prototypes to high-volume productions, we are always ready to work with you!
How can you ensure the quality of my precision machined parts?
Googletech is an ISO-certified company. We strictly adhere to the ISO 9001 quality management system, ensuring continuous optimization and improvements of our manufacturing capabilities. Our precision machining services encompass quality control and quality assurance processes, including standardized procedures and advanced testing at each production stage. Your products will always meet quality requirements.

Ready to Get Started with the Best Precision Machining Service?

Our precision machining factory is equipped for 24/7 non-stop manufacturing, maintaining quality standards, and operating efficiently. This allows us to offer the best services for manufacturing parts to your specifications at competitive pricing and faster turnarounds.
Our most popular products